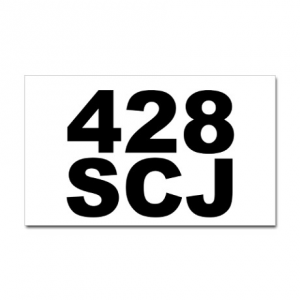 This is the engine.  It is a 428 Super Cobra Jet.
Here are the modifications done to the engine:
Machine work:
Standard Hot tanking and magnafluxing
Grind crank .010
Balanced
Aligned and bored .030 over
Honed
Main Studs and Head Studs
Reconditioned Rods (even though I'm not using the SCJ pistons and new rod bolts I figured I'd try to keep some of the rotating assembly besides the crank and external balancer)

Go Fast Parts:
Speed-Pro Power Forged Pistons
Crane PowerMax Roller Cam Duration 282/ 288, Lift .584/ .607 which was degreed
Melling Standard Oil Pump (using stock pan and windage tray)
Comp Rocker Arms 1.76 ratio
Comp Magnum Chromemoly Pushrods for a Mopar 383/440 due to special valve train assembly
MSD Pro-Billet Magnetic Trigger Mechanical Advance Distributor with bronze gear
Edelbrock Performer RPM heads for a medium riser 427
Edelbrock Streetmaster Intake
Barry Grant Mighty Demon 825 CFM
MSD 6AL
Thanks to Joe and Christy Leach at Performance Motorsports and Machine for all the hard work on the engine!